Massage Therapy Applications
Massage has significant benefits for all stages of life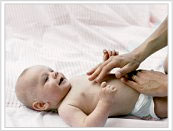 Massage Therapy Research & Its Application to Practice
The number of good quality research studies about Massage Therapy (MT) is rapidly rising. There is a growing body of evidence about the effectiveness of MT published in scientific journals. Some topics of particular interest in our clinic are the use of massage therapy for low back pain, headache, anxiety, and depression and with various illnesses including cancer.
Low Back Pain:
Research studies investigating Massage Therapy (MT) for low back pain have shown that MT is effective for reducing pain and improving function in patients with common low back pain, especially when combined with education about exercise. (1)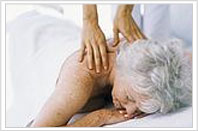 Headache:
A study published in 2008 provided evidence for reduced frequency, intensity, and duration of chronic tension headaches after massage therapy treatment.(2). A study published in 2006 showed support for the use of MT for treatment of migraine headaches. (3).
Anxiety:
A large review study published in 2004 concluded that the most significant effects of massage besides reduced blood pressure, heart rate and pain was the reduction of anxiety and depression (4).
Cancer Care:
The Society for Integrative Oncology recommends massage therapy for cancer patients experiencing anxiety or pain. (5).
1. Furlan AD, Imamura M, Dryden T, Irvin E. Massage for low-back pain. Cochrane Database of Systematic Reviews 2008, Issue 4.
2. Moraska A, Chandler C. Changes in clinical parameters in patients with tension-type headache following massage therapy: a pilot study. The Journal of Manual & Manipulative Therapy. 2008;16(2).
3. Lawler SP, Cameron LD. A randomized, controlled trial of massage therapy as a treatment for migraine. Ann Behav Med. 2006:32(1);50-59.
4. Moyer CA, Rounds J, Hannum JW. A meta-analysis of massage therapy research. Psychological Bulletin. 2004:130(1):3-18
5. Deng et al. Evidence-based clinical practice guidelines for integrative oncology: complementary therapies and botanicals. Journal of the Society for Integrative Oncology. 2009;7(3):85-120.